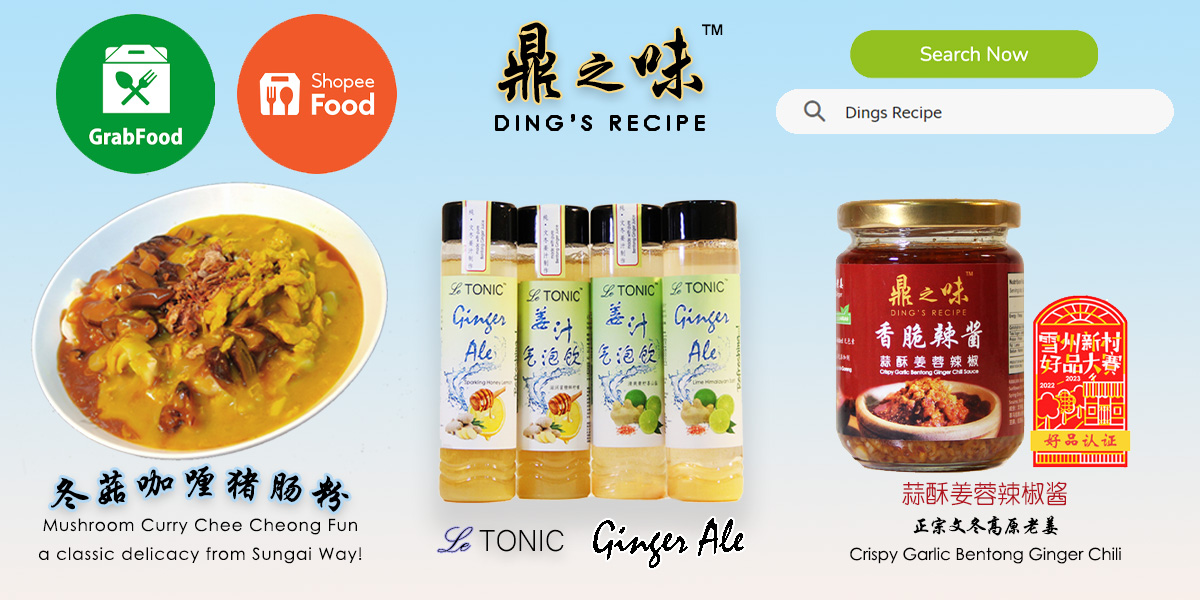 欢迎品尝我们公司新推出的外卖服务,我们现在已经在Grabfood和ShopeeFood两大平台上线了!
无论您是想在办公室里享用美味午餐,还是在家中与家人共享晚餐,我们的外卖服务都能满足您的需求。我们的菜单涵盖了各种美味佳肴,包括双溪威经典美食冬菇咖喱猪肠粉、清爽可口的LeTONIC 姜汁气泡饮、各类小食和其他饮料等等。
我们的食材都是由优质供应商提供的,为您提供最新鲜、最美味的食品。
我们的外卖服务非常方便,您只需要打开Grabfood或ShopeeFood应用程序,
搜索关键字 "Dings Recipe" 即可找到我们,轻松选择您想要的菜品,然后等待送餐员为您送上!
现在,订购我们的外卖服务,您可以享受到多种优惠和折扣。如果您订购超过一定金额,我们还会为您提供免费配送服务!
让我们的外卖服务成为您忙碌生活中的一部分,让您的味蕾享受美食盛宴!
Welcome to our company's new delivery service, now available on both Grabfood and ShopeeFood platforms!
Whether you're looking for a delicious lunch at the office or a hearty dinner to share with family at home, our delivery service has you covered. Our menu features a wide range of mouth-watering dishes, including the classic delicacy Mushroom & Curry Chee Cheong Fun from Sungai Way, refreshing LeTONIC Ginger Ale Sparkling Drink, Side-dishes and more
We source our ingredients from top-quality suppliers to ensure that you receive the freshest and most delicious food possible.
Our delivery service is incredibly convenient. Simply open the Grabfood or ShopeeFood app and search "Dings Recipe", select your desired dishes, and wait for our delivery personnel to bring them to you!
Currently, we are offering a variety of discounts and promotions for our delivery service. If you order above a certain amount, we also provide free delivery!
Let our delivery service become a part of your busy lifestyle and satisfy your taste buds with a feast of delicious food!
Related products